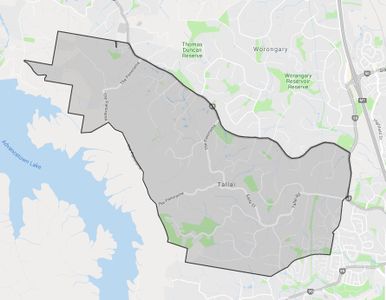 Tallai covers an area of about 759 hectares or around 7.5 square kilometres (1877 acres) and had a recorded population of 4150 people (at the 2016 Australian Census). 65.8% of people living in Tallai were born in Australia. The other top responses for country of birth were England 8.3%, New Zealand 7.2%, South Africa 2.1%, Scotland 1.1%, Germany 0.7%.
It is surrounded by the suburbs of Advancetown, Gilston, Mudgeeraba and Worongary.
Living in Tallai
There are approximately 1,342 houses and 157 units in Tallai and elevation varies from about 6 metres to 332 metres above sea level.
Tallai has always been considered the prestige area of the hinterland and property prices have continued to reflect the growth in Tallai's popularity.  Beautiful homes sit proudly in this well-maintained acreage lifestyle area surrounded by undulating hills, lush gardens and amazing birdlife, complemented by some of the most spectacular views to the coast achievable on the Gold Coast.
This expansive outlook to the coast or overlooking Hinze Dam is breathtaking from vantage points such as The Panorama, which is often called the quintessential place to live in Tallai. 
The people who choose to reside in this area enjoy the peace and quiet away from the hustle and bustle but enjoy being so close to everything.
Located just minutes with an easy commute to the M1 Motorway provides residents with access to Brisbane CBD and International airport in the north. To the east, all the beautiful beaches await and to the south, the Gold Coast International and domestic airports and NSW border just 20 minutes down the M1 Motorway.
Queensland's finest schools, beaches, shops, transport and medical facilities are on the doorstep and nearby Worongary, Mudgeeraba and Robina Town Centre provide all the facilities you could possibly require.
 
Hinze Dam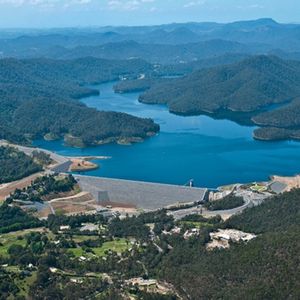 Hinze Dam is a fantastic recreational destination, featuring lakeside parks, walking, bike and horse trails, ample car parking, toilet facilities and barbeque areas for public use.
Built across the Nerang River it was constructed in 1976, raised in 1989, significantly upgraded in 2011 and is the main drinking water supply for the Gold Coast region.
The catchment area of 207 square kilometres includes the Numinbah Valley and Springbrook Plateau, pools into a 3700-acre reservoir called Advancetown Lake. 
For anglers with a permit and electric outboard motor (sail or paddle craft) this is an anglers paradise for hooking perch (silver & golden perch), Mary River Cod, Saratoga and Australian bass from either of the two boat ramps, on the Western side via Nerang Murwillumbah Road or the Eastern side on Little Nerang and Range Roads.

There are four picnic and barbecue areas with nearby playgrounds for the kids and onlookers, plus a state-of-the-art educational interpretive centre perched above the parklands and lake. Dogs on leashes are now welcomed in designated areas at Hinze Dam.
The Hinze Dam recreational facilities are now via Advancetown Road. There is no longer access via Gilston Road.
For more info, download the Hinze Dam Recreation Guide.  

History:
Historical records show that settlement took place in Tallai from the late 1800s. 
For a full history of the region see beautiful, historical Mudgeeraba

Local Connections:
If you would like to link up with local residents and local business operators, why not join the local facebook group: 
If you would like to link up with local residents and local business operators, why not join one of the local facebook groups:

​​​​​​Links to other suburbs
What's in the neighbourhood?