The Mudgeeraba Chamber of Commerce provides the Mudgeeraba business community with network opportunities, and a combined voice, promoting business in the area with the Gold Coast Combined Chamber, the Gold Coast City Council, State and Federal governments and many other organisations. More info: Mudgeeraba Chamber
Ros Bates MP, RN
State Member for Mudgeeraba
Shadow Minister for Health and Ambulance Services
Shadow Minister for Women
Ros understands and appreciates the importance of close-knit communities. She takes her office to the people in her regular "Community Corners" and knocking on the doors of locals so she keeps abreast of local concerns and works collaboratively with her Council and Federal colleagues in order to make our local area a better place to live and work and to raise our children.  More info: https://www.rosbates.com.au/
Meet your Local Councillor:
Leading our division through community consultation is our local member – Division 9 City of Gold Coast, Cr. Glenn Tozer.  You can find Cr. Tozer's office in Swan Lane Mudgeeraba.  More info: http://www.glenntozer.com.au/
Returned & Services League Of Australia (RSL)
Mudgeeraba-Robina Sub Branch is located at 62 Railway Street, Mudgeeraba and is open 17:00 Fridays only. RSL Queensland is the largest ex-service organisation in Queensland, with more than 240 Sub Branches across 10 Districts, offering advice, support and camaraderie to all current and former Australian Defence Force members and their families. More info: http://mrrsl.org.au/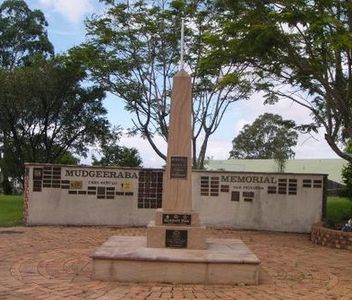 Mudgeeraba War Memorial:
Located in Elsie Laver Park at 12 Railway Street, the war memorial provides our community with a place of remembrance.  The memorial consists of two parts:  the obelisk which commemorates the men and women who served in war and the memorial wall with plaques dedicated to local pioneers.  The tradition of the ANZAC Day service continues every year here at both dawn and dusk
Mudgeeraba Lions club is part of a Multiple District of almost 30,000 Australia Lions.
As a Service Club, they exist to serve the less fortunate.  They are committed to serving our local community in projects that make our homes a better place to live. 
Meets 2nd & 4th Wednesday at 7.00 p.m. – Wallaby Hotel Function room: 45 Railway Street, Mudgeeraba.
More info:  http://www.e-clubhouse.org/sites/mudgeeraba/.
The Rotary Club of Mudgeeraba
Meet community-minded people on issues that matter in our local community and make a difference in the lives of others. Rotary meets Tues, 6:45 p.m. at Merrimac Tavern, Ghilgai Rd. & Gooding Dr, Merrimac
More info:  http://rotaryaustralia.org.au/
Mudgeeraba Rural Fire Brigade:
Located at 415 Springbrook Rd, Mudgeeraba Rural Fire Brigade is one of the most active and professionally focused volunteer fire units in Queensland. Members train every week in firefighting skills and knowledge in preparation for the Queensland fire season. If you're over 16 you can attend training.
Changes to Fire Permits:  previously only fires that exceeded two meters in any dimension required a fire permit.  Now, during a declared fire period, ALL fires require a permit except those fires previously covered by exemptions and fires for the purpose of cooking (less than one square meter).  Contact the Fire Warden for details.
Duty Officer:  0477 603 881  To report a fire or a life-threatening emergency, call 000.
More info:  https://www.mrfb.org.au/
The Mudgeeraba Show Society:
In addition to the fabulous agricultural annual event – The Mudgeeraba Show, The Mudgeeraba Showgrounds are used by many clubs and organisations for their regular classes, meetings and social events. 
The Mudgeeraba Show Society provides the opportunity for other individuals, clubs and organisations to operate events and functions from the showgrounds at the Corner of Mudgeeraba & Worongary Roads, Mudgeeraba.
Visit:  http://www.mudgeerabashow.org.au/
or for more information on other events held at the showground, see:
Show Society Meetings
Country Womens Association
Gold Coast Bird Aviary Association
Lakshmi Yoga
Southern Cross Martial Arts
Surfers Paradise Budgie Club
Zumba